With inspections and audits back in full swing, is your stand-by generator compliant with local, state and federal standards? Contact GenServe today to learn more on how to be in compliance and avoid costly fines.
Business owners have to ask themselves one question: what would happen if a fire marshal showed up unannounced to my facility today?
Industrial generators are subject to NFPA 110 compliance. This means you need to be ready to show the fire marshal all applicable documentation to prove your backup power system is in working properly and regularly maintained. This includes all backup power sources, transfer switch equipment, system controls, supervisory equipment, and accessories that supply electrical power to a facility.
NFPA110 standards cover performance requirements for emergency and standby power systems providing an alternate source of electrical power in buildings and facilities in the event that the normal electrical power source fails. Systems include power sources, transfer equipment, controls, supervisory equipment, and accessory equipment needed to supply electrical power to the selected circuits.
In other words, if you have an emergency power system, NFPA 110 tells you what it should be able to do and how to take care of it. Designers, manufacturers, maintenance professionals, and government authorities all refer to NFPA 110 when installing, commissioning, and inspecting emergency generators.
If a fire marshal shows up unannounced and you are not prepared or failed to maintain the backup power systems you may be subject to large fines.
The lockdowns of 2020 significantly affected many industries and businesses financially. Budgets shifted from maintaining the building's equipment and generators, to paying for leases and employee salaries, while not producing revenue. Inspectors and fire marshals put inspections and audits on hold as the world faced a pandemic, however since everything started reopening this year, fire marshals are once again doubling down on inspections alarming many building owners and facility managers.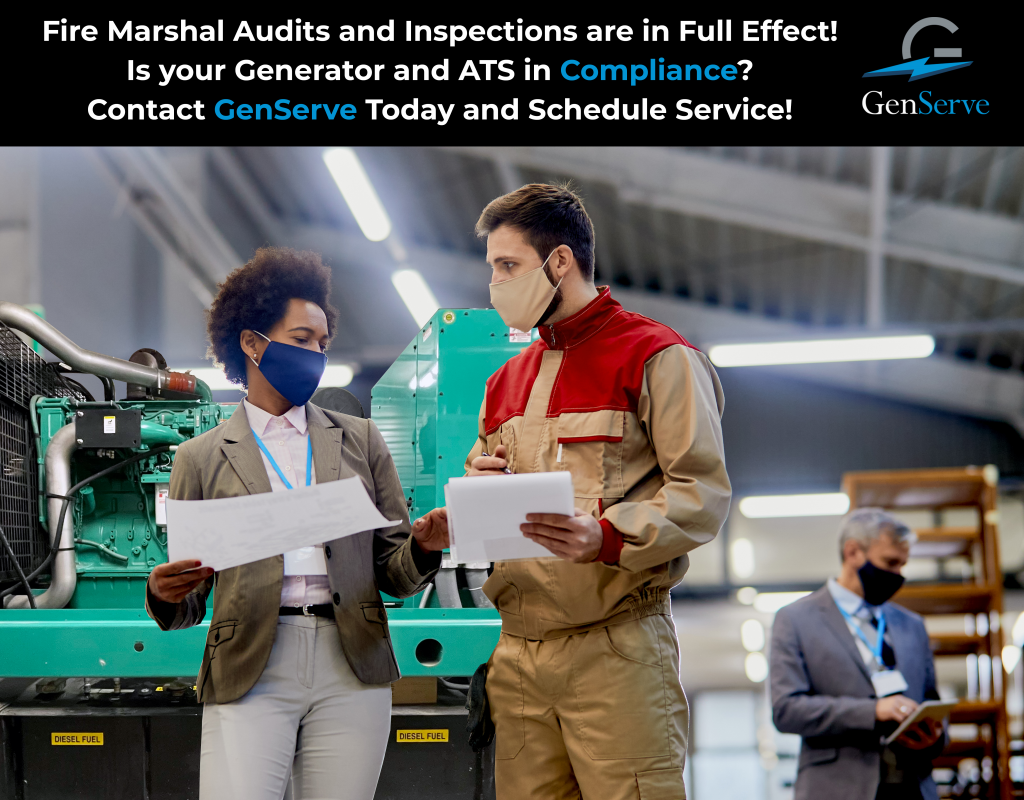 Whether you need maintenance on your current emergency generator or repairs to make sure you are in compliance, GenServe is your backup power specialists. Rather than offer a variety of heavy equipment, we specialize in emergency commercial generators. This means that when you work with us, you are working with specialists who will know exactly how to help you keep your power on in the best way possible.
Schedule Service Today
Don't wait any longer, contact our service department today with questions about compliance and to schedule preventative maintenance service.